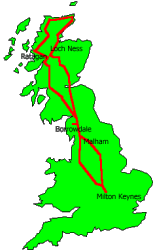 Neglected Places Tour
20th to 28th September 2000
A little history
As a youngster, I spent many a family holiday in Yorkshire and the Lake District, and a couple in Scotland. The most infamously memorable of the latter was in Glen Trool, south-west Scotland, in the hot summer of 1976, with my most abiding recollection being the swarms of midges that infested our camp-site, encrusting everything - from car windows to my beloved milk - in a crawling layer of bloodthirsty biting black. Add to this the knowledge of the existence of a great aunt who always lived "too far away" up near John O'Groats, and whom I'd never met, there were simply too many wrongs to put to right not to make best use of my semi-regular autumn break from work.
The plan
What plan?! Honestly there was no plan, at least once my first two hostel nights were booked and I had got some strange notion into my head that I would get in my car and see how far north I could go before I ran out of land - and hopefully track down that great aunt of mine, of course! Expecting to stay at youth hostels, I joined up at one of my local hostels, and that turned out to be a good investment indeed. I intended to stay at each hostel two nights - allowing a day for travelling and a day for sightseeing - booking up my next destination the night before I left each, and that worked well in practice.
Petrol panic!
Even after so much expectation, the holiday very nearly didn't happen, however - for lack of petrol for my car. My intended departure date coincided dangerously closely with the petrol blockades, and it really was quite touch and go whether I'd be able to buy the petrol to get me to the Lake District, the first step of my tour. Thankfully, the blockade was called off in the nick of time, and my holiday - and my travelling to a wedding in Southampton the weekend before - was not seriously affected, and just as well since I covered over 1600 miles!
The Lake District



Longthwaite youth hostel in Borrowdale was my first destination, a hostel I'd visited in fairly recent years and had good memories of - though no sign of the Scandinavian au-pairs I distinctly recall chatting up at the nearby pub last time. Instead my most memorable fellow hosteller and room-mate was a talkative - and indeed sleep-talkative, somewhat annoyingly - Geordie bloke who was actually quite a fount of knowledge, and eternally grateful for a lift to Carlisle on the morning I left.
While in the Lake District, I had a good morning's lakeside walk near Buttermere and Crummock Water, followed by a somewhat whistlestop tour by car of a good many parts of the area. These included Castlerigg stone circle - one of the most famous ones around - just outside Keswick, the Wrynose and Hardknott Passes - fun, if strenuous, driving! - and, finally, the Sellafield nuclear reprocessing plant visitors' centre. The latter was a place we'd never have gone as a family, so that was quite an eye-opening experience, though it was hard to believe it was once the UK's most popular tourist attraction.
Up, up, and away!




From the Lake District, it was on to Loch Ness, much further north in Scotland than I had ever been before - but soon to be surpassed, needless to say. Incredible scenery on the way, but it was just a taster of what was yet to come. No sign of Nessie in the deep waters of the lake, but the tourist industry based on the alleged monster was certainly alive and evident, especially in Drumnadrochit, with multiple exhibitions, boat trips and of course tacky gift shops. Urquhart Castle was also good for a visit, and that wrapped up my day of sightseeing before I returned to Loch Ness youth hostel for the night.
What goes up must come down

Then came what seemed one of the longest days of my life - and almost certainly my longest drive, serving as a reminder that Scotland is seriously big. It may just look like that little wiggly bit tacked on to the top of England, but what I thought would take about four or five hours ended up taking ten or eleven, and I was quite shattered by the end of it. But it was also seriously spectacular, some of the most stunning scenery I've ever seen, and really quite exhilarating driving on the winding mountainside roads, many overlooking the sea.
John O'Groats and Duncansby Head weren't terribly exciting to be honest, but at least I can say I've been there. More interesting things were to happen soon after, though, not the least of which was a little mishap on the way to nearby Dunnet Head. Making room for an oncoming camper-van, I slipped into an unseen roadside ditch and had to summon help to pull my car out. Thankfully the nearby deserted farm wasn't the only civilisation, with a few houses just over the crest of the hill. A very kind couple who ran a car dealership - always a good bet to find a tow-rope! - did the necessary, and not only also washed the worst of the mud off my car, but also drew a map showing how to get to the nursing home where my great aunt is now a resident.
The map was topologically accurate even if the scale was a bit wayward, and thus I found my way to the home, where I dropped in on my great aunt Grace quite unannounced. I couldn't be sure she was there - or even alive, it has to be said - but after a short wait in the lounge, a quite frail but cheerful-looking lady was wheeled in, having just had her lunch. I don't know how much she really recognised me from pictures, and how much the staff had to explain from what little I'd told them, but she really was seriously chuffed to get a visit - I made her day for sure, and the feeling was mutual. We had a good long chat, and I got to meet her dog, but she needed her afternoon nap and I needed to be on my way, so with assurances that I would try and visit again, I hit the road once again.
So, having driven up the east coast, along the north coast, and then finally - and this was probably the longest stretch, at least in terms of time - a fair way down the spectacular west coast, I arrived at Ratagan youth hostel. Unfortunately the last hour or so was in the dark, so I missed seeing some of the coast, but that just gives me a further excuse to go back there sometime and do it more justice than I could ever have hoped this time.
Speed bonny boat




Ratagan is a little village on the Scottish mainland, just on-shore from Skye and almost exactly as far north as Loch Ness. The hostel's location is described as "unique", and I didn't realise quite how splendid it was until I saw it in daylight the following morning, right on the shores of Loch Duich with mountains towering around.
There were brochs - ancient and ruined stone keeps - to explore nearby at Glenelg, from where one of the car-ferries to Skye also operated. This was too much of a chance to miss, so I spent a good part of the day on the island, the highlight being a visit to the Kylerhea otter haven, watching various animals and birds - including otters, by no means guaranteed, but definitely there and visible! - in totally unspoilt natural habitat.
Eilean Donan castle is perhaps one of the most picturesque and indeed most photographed castles in Scotland - also featuring in Braveheart I understand - and that was my final destination while I was in that part of the country. Not your typical castle, and a world apart from Urquhart Castle by Loch Ness, but still interesting to look around, and it gave me an excuse to try out the new Skye bridge since that was the most direct route - and in Scotland, an indirect route really isn't something to be trying at the end of quite a long day!
Back into England...




The run from Ratagan to Malham in Yorkshire was mercifully quicker than the one two days previously, but still took in some fantastic scenery, including Glen Coe. By the time I was passing Loch Lomond, the weather was closing in, however, and it was a bit of a mucky drive from there on to be honest - perhaps the only time in the whole week the somewhat unpredictable weather really served to annoy a little.
Malham youth hostel was a comfortable place to spend my last couple of nights away, even if a school party were there for the second one and somewhat unavoidably taking over the place. Also back to being cooked for, something the Scottish hostels didn't do, so I'd been living on microwave curries and things for the previous few days.
In the morning of my full day there I went for probably my most strenuous walk of the whole week, up to Malham Cove, Malham Tarn and Gordale Scar. The weather was reasonable, but there was a lot of water around - especially at Gordale Scar - and I had to retrace and make a few detours before I arrived back at the hostel to eat my lunch. Then it was on to White Scar cave near Ingleton, which includes the Battlefield Cavern, claimed to be the largest in England. I definitely chose the best halves of the day to be walking and underground respectively, since the slight drizzle in the morning became quite torrential rain by the evening.
... and home
I was home in no time at all the next and final day, or so it seemed - not much more than two hours on the road, thanks to taking a fellow hosteller's advice and going via Bradford and the M1, rather than the M6 as I'd rather crazily planned.
Until next time
So, in visiting so many places I'd either neglected or never been to at all, it's given me quite a few ideas for future holidays - especially that west coast of Scotland and Skye, where I suspect I could be back to within months! This could only ever really have given a taster of these places, not really doing any of them justice, but it's inspired me enough that I want more - and maybe I won't wait until next September this time!
This account last modified on 8 October 2000 by David Gosnell. All photographs ©2000 David Gosnell.
All pages on this website copyright ©1996-2022 David Gosnell. This page was last modified on Thursday, 16 November 2006. For permission to reproduce any original content, please contact webmaster@goznet.co.uk